But, somehow I am really excited about joining in the
Writer's Workshop
created by Kathy of
Mama's Losin' It!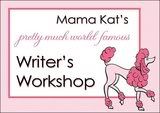 I just recently found Kathy's blog, and am already smitten with her family, her wit, and her imagination. I don't know how she finds time to do all that she does since she is a stay-at-home mom running a home daycare business. Regardless, almost every time I read one of her posts, I have to chuckle.
Like the title of this post says, I really am no writer. I was always pretty good at English and Composition in school, but I have always felt that I am not creative enough to actually WRITE. Sure, it's easy to write about the everyday stuff, but sooner or later, writer's block is going to hit. That was the inspiration behind the
Writer's Workshop
. Every week, Kathy creates a list of topics about which you can write on your own blog. Then, on the following Thursday, you head back to her blog to link up to the topics post. Here are her current
topics
to choose from:
Why are you burned out?
Write a poem about a time someone made you smile.
A list of 10 reasons why you do or do not drink coffee.
An open letter to a celebrity.
That one time you met your online friend in real life (was it everything you thought it would be?)

.
I have chosen the really deep topic of why I drink coffee. Stay tuned Thursday for my scintillating list!